Full Disclosure: This article is sponsored by BAWMEDIA.
If you're a new user, it can be difficult to pick a theme among the thousands of available options. Even if you've been around the block a few times finding one that exactly fits your needs usually involves a certain amount of time-consuming comparison shopping.
We've done all that for you. We've take pride in being able to showcase a selection of top quality themes that will make your websites shine and any potential client smile.
These are the best WordPress themes for 2020, and each of these high-performance themes is unique in terms of its appearance and function. You should have no problem drilling down to one that best suits your needs whether you're objective is to create a travel blog or one addressing any other niche, open an online shop, or advertise an existing business large or small, or simply make conducting business easier and more efficiently.
Enjoy your search, starting with –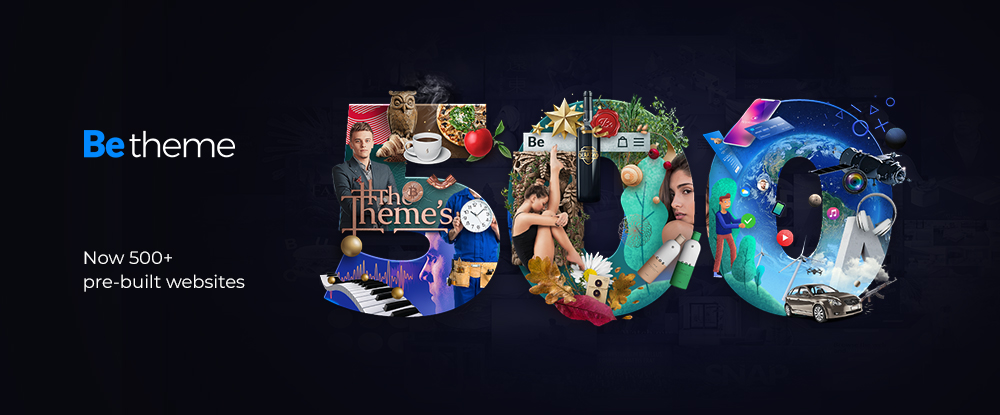 This, the biggest of the multipurpose WordPress themes is an excellent choice for the novice website builder. It is also excellent for an advanced web designer serving a large and diverse clientele, and for anyone in between.
Its users love its performance and flexibility and its multiplicity of website building tools. They also love the design elements that are packed into 40 powerful core features, and the superb level of support it provides.
BeTheme's tools and design features include:
A powerful Admin Panel that enables users to easily customize a site
Muffin Builder – a powerful page builder that, together with the Admin Panel, eliminates any need for coding
Advanced Typography, Unlimited Colors, Custom Backgrounds, and Special Effects that provide unmatched flexibility
The star of the show is the selection of 500+ customizable pre-built websites. They cover 30 industry sectors and the entire range of website styles and types. They can be loaded with a single click and give users a solid foundation on which to build any type of site.
"I have been purchasing WP themes from ThemeForest for almost 10 years now and BeTheme is BY FAR the best bang for your buck. The ability to download over 400+ website templates is unbelievable. Would give 6 stars if I could." – ZombieBatman
Learn more about BeTheme by clicking on the banner.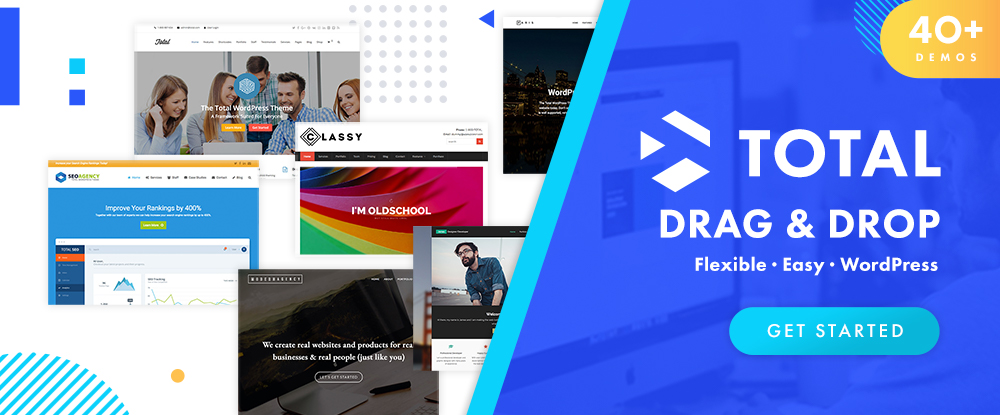 The Total WordPress theme is packed with all the features you'll need to get a site up and running smoothly and quickly. Its multiplicity of features offers incredible flexibility to WordPress beginners and established designers alike. At the same time, Total is efficient, it's not bloated, nor is it hard to use. In fact, any feature you don't want to use can be disabled via its built-in theme panel.
What to expect? How about –
Front-end Drag and Drop, using the popular and powerful WPBakery page Builder
40+ Pre-made Demos together with more than 100 Page Building Modules, each of which comes with advanced options
A Dynamic Template Function for creating custom layouts
A Theme Customizer that allows you to easily change colors, fonts, widths, and other settings
Total is developer friendly as well, WooCommerce ready. It features premium sliders, and it is compatible with popular plugins like Gravity Forms, JetPack, and bbPress.
"I've been a loyal customer of Total theme for years. Support is impressively quick, useful and accurate. The theme allows you to build virtually anything you want. AJ and his team are terrific, and there is no reason to buy any other theme." – donnieweaver
Total can boast of 41, 863 sales and a 4.86 rating.
Find out more about Total by clicking on the banner.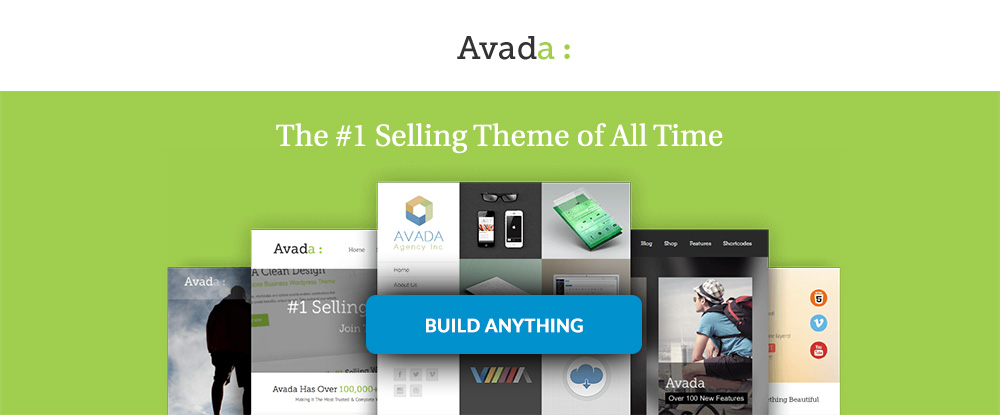 Avada has been the #1 top selling theme the past 6 years and has logged in more than 550,000 sales since its initial launch. The latest version 6.1 features visual editing and an intuitive interface. More reasons for selecting this them include –
A dynamic content system that take design flexibility to a new level
Flawless WooCommerce Integration
Import full or partial demos
57 prebuilt websites and 60+ design elements
"This theme, as a core function, provides the ability to truly customize WordPress so your site doesn't look just like all the other WordPress sites on the Web. There is a learning curve but it's well worth the cost and time to make your site stand out from the herd." – rcarrell
Click on the banner to discover more about Avada.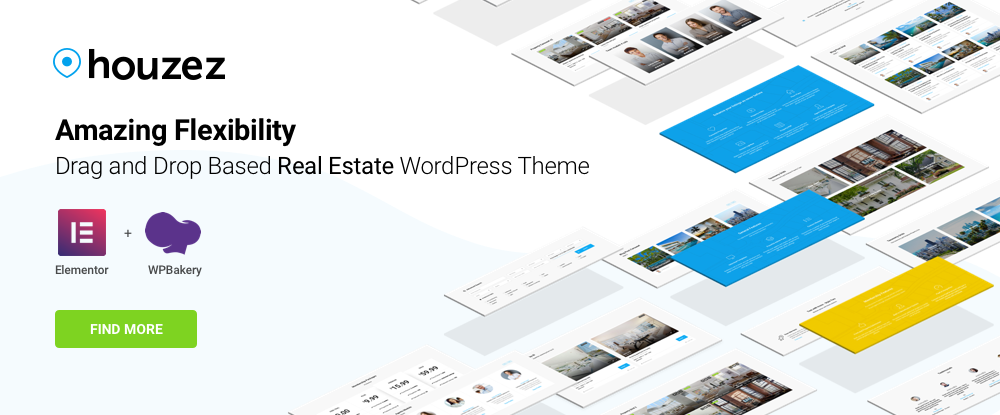 A specialty theme is often the best and sometimes the only solution to a client's needs.
Houzez is –
Ideally suited for real estate agents and agencies
Highly customizable, with many powerful property search and listing features
Elementor and WPBakery based
"Excellent, it has all the functions a real estate agent needs to get started and make good business. Support and easy installation and use! Congratulations!" alexmarques
Visit Houzez's website to find out more.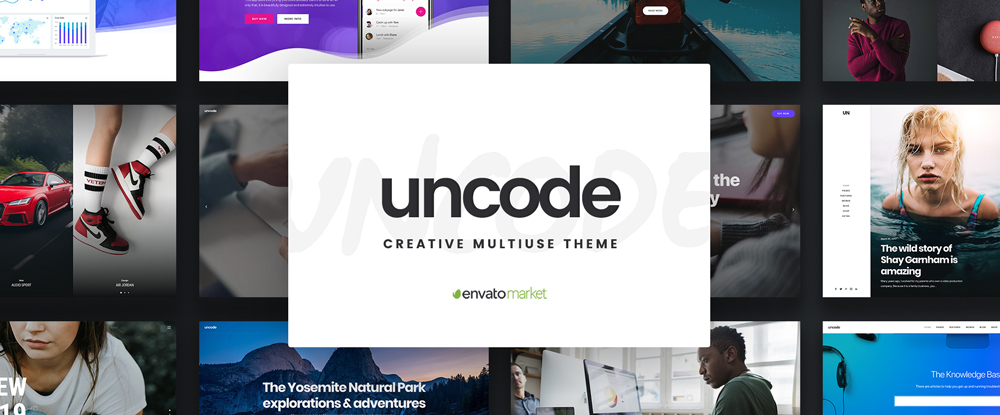 Uncode is a pixel-perfect creative multiuse theme. It is designed for use by freelancers, bloggers, agencies, small businesses, portfolios, and more. 60,000+ sales attest to this ThemeForest best-seller's popularity.
Features include –
A Frontend Editor on steroids that lets you design in real-time
70 Stunning and inspiring pixel-perfect concepts to get you off to a rousing start
400+ wireframe section templates to tailor your site
"This is a really great theme, highly recommended! And the support is also excellent if you need to contact them, they respond within minutes – unbelievable!" – adamsphotoart
Check out Uncodes website by clicking on the banner.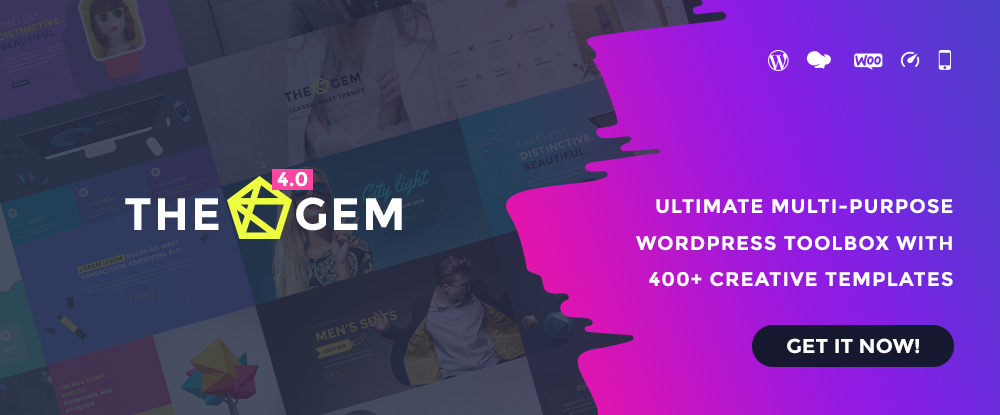 TheGem gives its users a veritable Swiss Army knife of design tools to work with. This bestselling ThemeForest theme is regarded by many as the ultimate WordPress toolbox. Its features include:
400+ fresh creative design templates
100+ pre-built complete websites
The powerful WPBakery page builder
Excellent 5-star support
"I love TheGem Creative Multi-Purpose High Performance Theme. I plan to utilize it for all of my clients. I'm getting some of them to change over as I update their websites." – acreator7
Click on the banner to discover more about what TheGem can do for you.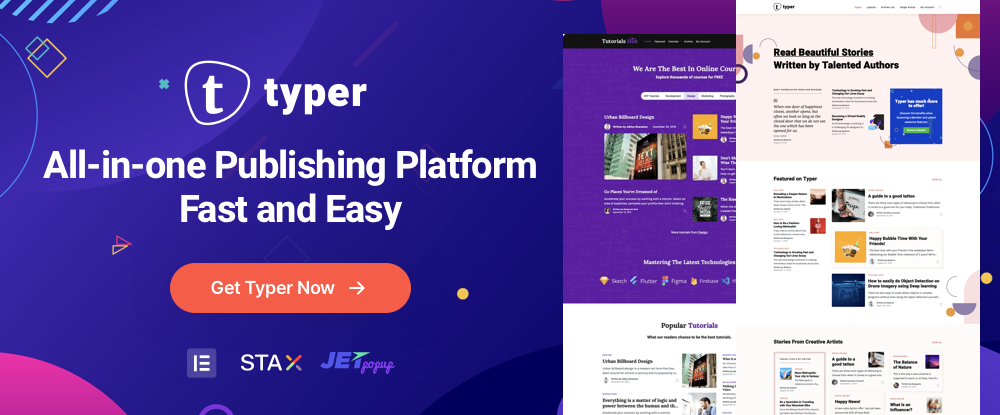 Typer is a super-fast modern publishing WordPress theme. It is suitable for bloggers and businesses alike. It makes it possible for others to create profiles and publish on your site right from the frontend.
Features include:
The popular Elementor page-building tool
100% Guttenberg optimization and support
Unlimited Header Styles using the Stax Header Builder
Unique page and post options
Typer is optimized for speed and no coding is required.
"Theme is awesome! Exactly what I needed for my site! Support has been great too. Definitely recommend this purchase." – chriscurran
Click the banner to learn more about Typer.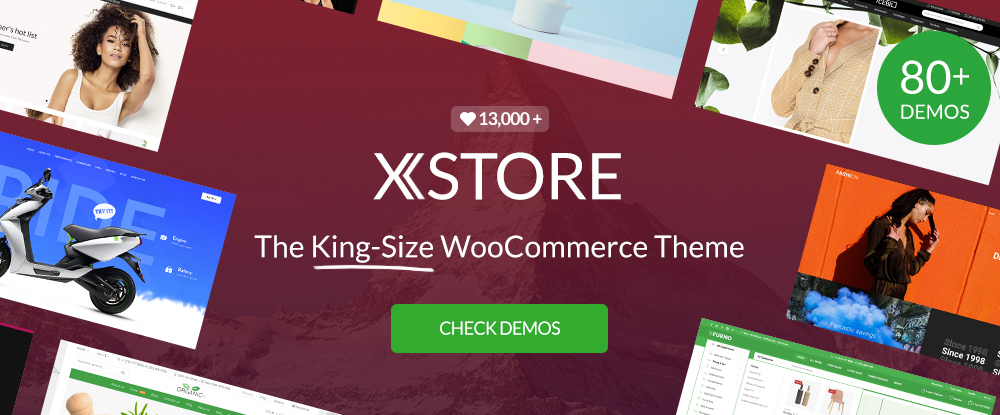 An ideal choice for anyone planning on creating and launching an online store, XStore makes it easy with features that include a single product page builder, an intuitive installer, a powerful header builder, along with –
$300 worth of premium plugins
80 good-to-go shops!
And, plenty of product oriented demos.
"XStore is one of the best e-commerce theme I've ever used. Many formatting options, good customization, clear code, good speed." – stieranka
Learn more about XStore by visiting their website.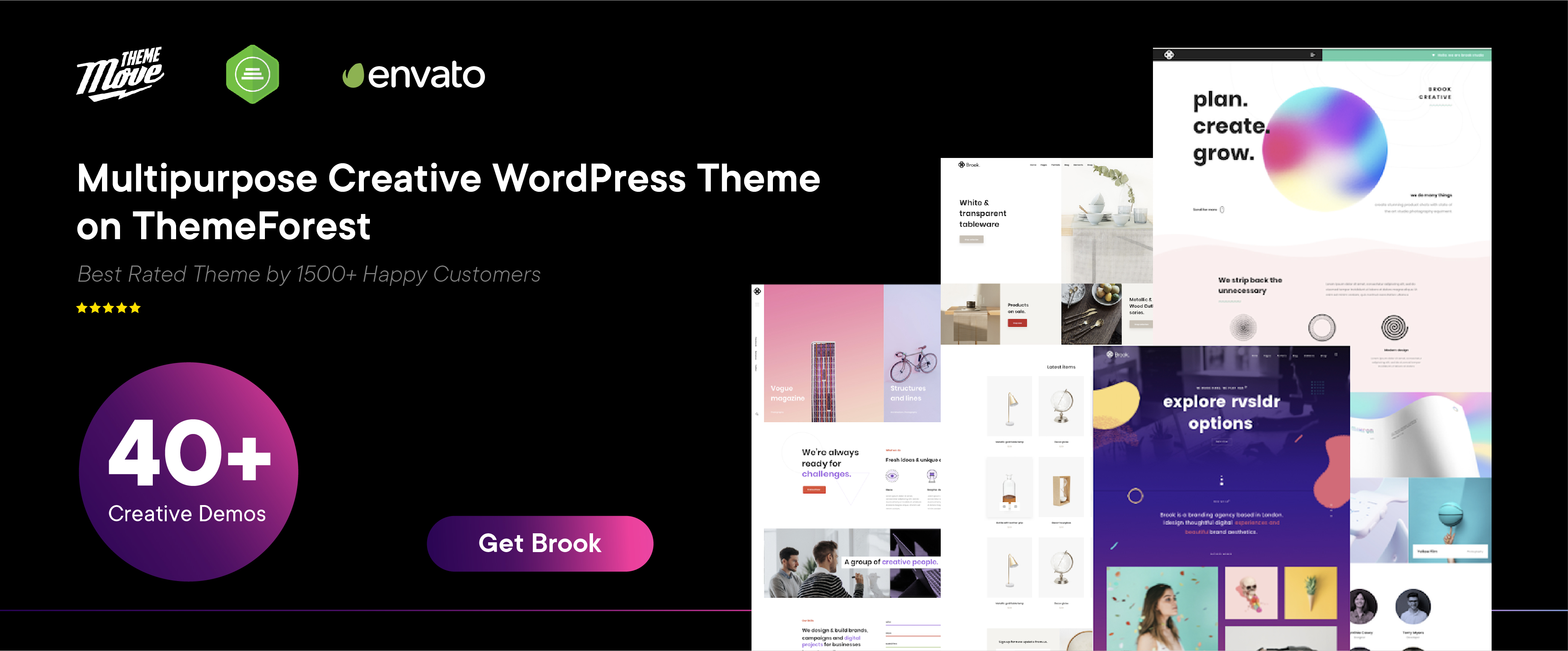 Given its huge collection of premade templates, design elements, and shortcodes coupled with superfast loading, seamless performance, and blazing-fast support, Brook is ideally positioned to give creative website builders exactly what they require. Features include –
The WPBakery Page Builder
Premium plugins
Tons of Shortcodes
"There are many, many positives on this template, from code quality to customization ease, to customer support! HIGHLY RECOMMEND!!!" – rodeospot
Visit Brook's website and check out one or more of the tutorial videos to find out more.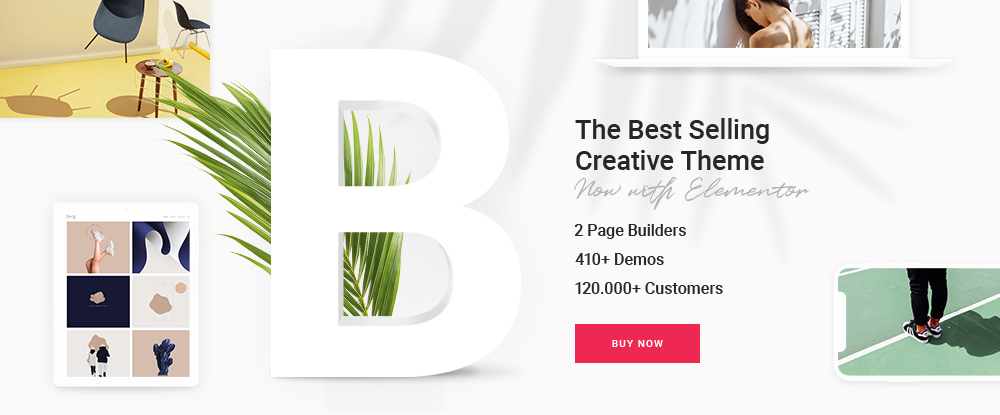 Bridge has a large following (126K customers), making it the biggest selling creative theme ever.
As befitting a creative theme, Bridge's most exciting features include:
Open-ended flexibility
Modules for every website type
Over 420 pre-made websites, and
5-star rated support
"I've bought some themes on ThemeForest, but this is the one that I prefer. It's incredible." – joaebobe
Learn more by clicking on the banner.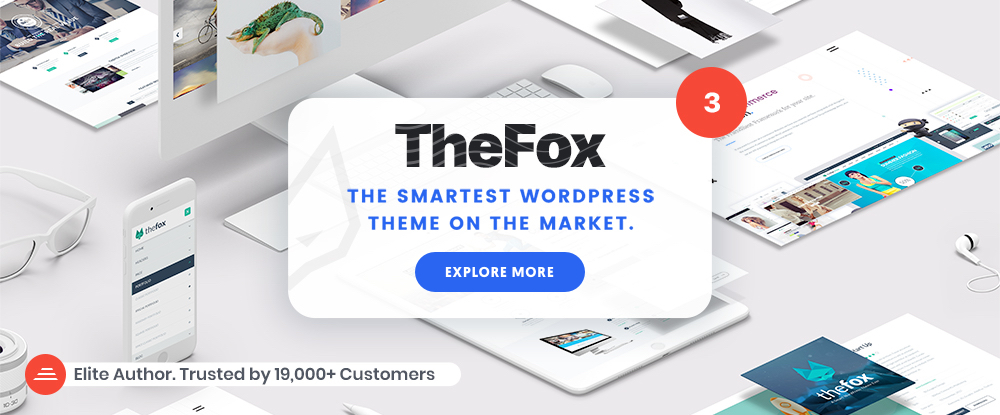 As its name implies, this is one clever WordPress theme. Being designed down to the minutest of details is the reason for this together with all the essential features a user will need including –
30+ design demos
A large selection of design elements and details
The WPBakery page builder
TheFox is also WooCommerce and WPML ready.
"I love how easy this is to work with (as a novice)." – hssaun3
Learn more about TheFox by clicking on the banner.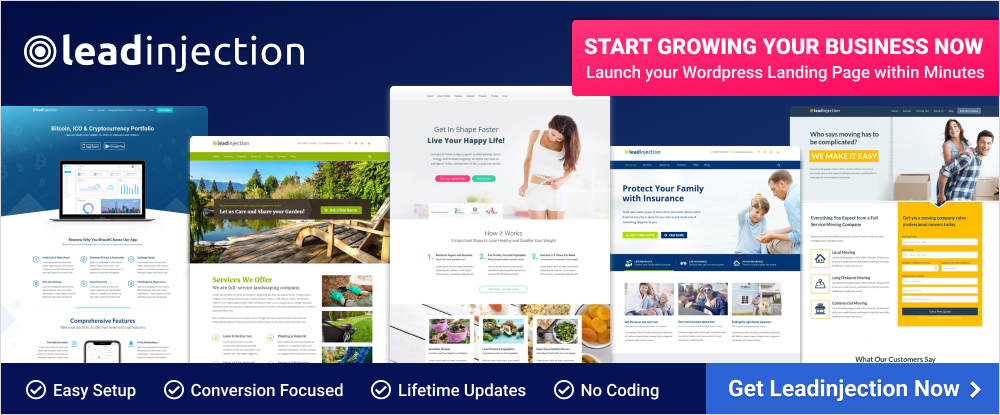 Need to add a landing page to an existing website? It can often be tricky, but Leadinjection makes it a quick and easy task. Leadinjection is WordPress multisite compatible, it's easy to set up, and since it's all drag and drop there's no need for coding. This is a must have for active business sites.
"This theme has some very cool features, and most importantly it is pretty well-documented." – frankdl98
Find out how easy Leadinjunction is to work with by visiting their website.
Optimizing for SEO is usually not a popular task, but it is still necessary. With Schema, optimizing is a whole lot easier. Schema should be a "must-have" tool in any designer's toolbox. Its features include:
A Built-In Review System
A Powerful Options Panel
Multiple Page Builder Compatibility
Plus, Schema is SEO ready and ultra-fast.
"Gorgeous design, super-fast response to my question too. Thanks for a wonderful theme :)" – simonehow
Learn more about this time-saving theme by clicking on the banner.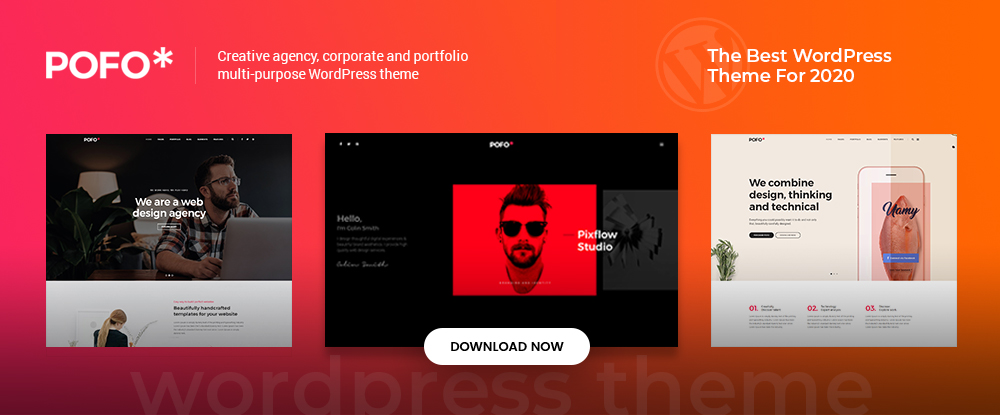 Pofo is an ideal choice for creating portfolios, especially ones that are somewhat out of the ordinary. Agencies, creative teams, photographers, and bloggers can put this modern, creative theme to good use.
Pofo is SEO optimized, crazy fast, and features 150 pre-built elements, 200+ demo pages, 25+ home pages to work with and is the recipient of a testimonial any business would die for.
"What an amazing template. I picked main reason as "Other", because all reasons listed there are main reasons to give you five stars – it is all: customizability, flexibility, documentation, design, code quality, available features." – RkuchmaN_2791
Take a closer look at Pofo to see how it can help you.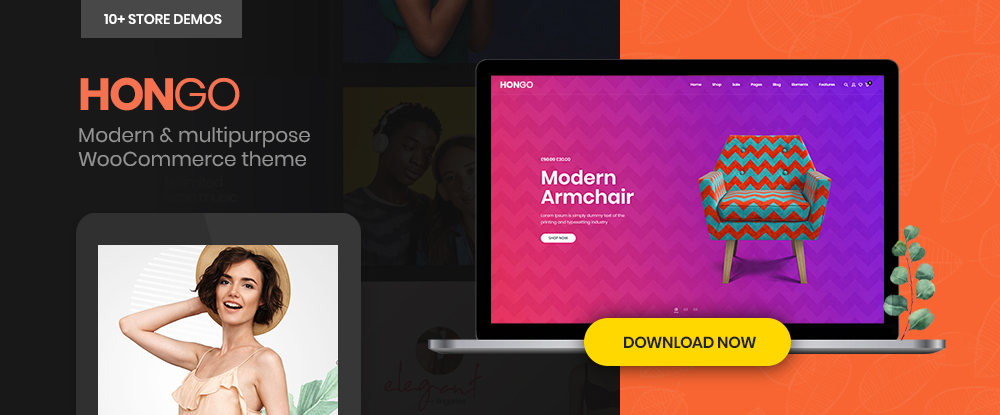 Hongo is a modern, multi-purpose and highly flexible WordPress theme that really shines when used to create a WooCommerce store, a blog, or a company's website. The package includes –
11 ready store demos, 200+ creative design elements and roughly 250 templates
WPBakery and custom shortcodes
Excellent online documentation and customer support
Being a relatively new kid on the block with just 90 sales, Hongo does not as yet have enough reviews but here is the recent one.
"Simply the great designs and best theme for WooCommerce, loading fast, customisable and easy to use with the detailed documentation. Their support team is technically sound and very kind to guide wherever needed. We have bought some other themes from ThemeZaa now and they have never lets us down, thanks!" – diyaatps
Check out Hongo by clicking on the banner.
While there are literally tens of thousands of themes available online, WordPress is by far the best platform to work from. With WordPress you can produce an attractive, flawlessly responsive, and high-performance professional website. Whether this is your first project or you're an old hand at serving multiple clients, any of the above premium themes will be a good investment.
Share this article with another web designer, especially if that designer is a friend in need. Ask them to post it on social media if they find it useful – which they will, and we sincerely hope you will as well!
Full Disclosure: This article is sponsored by BAWMEDIA.