Full Disclosure: This article is sponsored by BAWMEDIA.
A great way to showcase your projects is to build a personal portfolio. In today's digital world the best way to go about it is to go online with it. It's not all that hard to do either, even if your web design expertise or coding skills if any, aren't anything to brag about.
If you have the right website builder at your fingertips creating an online portfolio can be a relatively quick and easy task. Especially if that website builder specializes in or is heavily oriented toward creating portfolio websites. The tool you use must also be a good one. As is the case with the 6 website builders discussed in this article, an online portfolio will get the job done. Each of them has everything needed to put in place.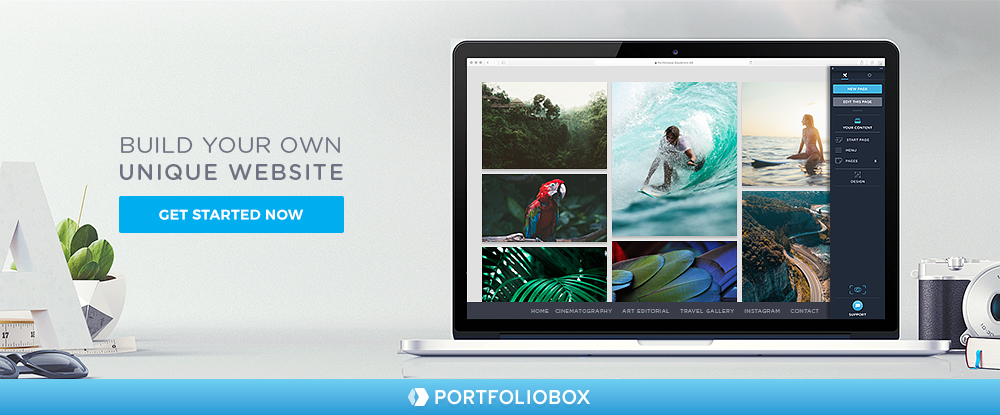 The Portfoliobox website building tool was designed with creative types in mind. It's an excellent choice for photographers, designers, and artists. It's a great choice for small businesses as well.
If you have the content for your portfolio close at hand, it's possible to have a quality portfolio ready to go in a few short hours. Add the fact that since Portfoliobox is not a theme-based tool, you won't be subjected to the limitations and design constraints that seem to crop up in many theme-based tools.
Portfoliobox has a free plan and a pro plan. It also has a special account for students. The free plan is a good starting point since it has all the features needed to build a quality medium-size portfolio website. You can then decide if you want to upgrade to the pro plan which gives you unlimited hosting of pages, products, and blogs, plus hosting of 1,000 images, a personal domain, and easy Google Analytics integration.
Portfoliobox currently has more than 1 million users worldwide. Portfoliobox 4, scheduled for release in the coming months will give users additional functionality, greater flexibility, and a more intuitive interface.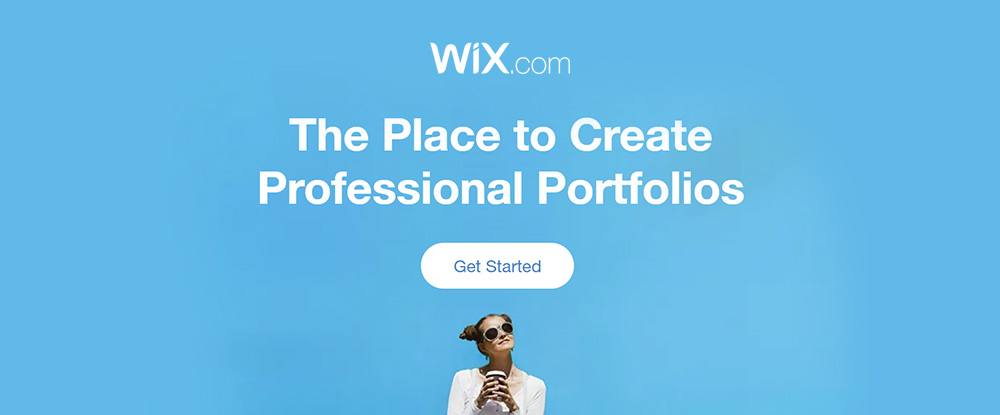 As you would rightfully expect from a top portfolio website-building tool, Wix has everything you need to create a stunning portfolio website. You don't have to pay a premium price for this premium software product either. Wix is free.
If you start building from scratch the necessary tools and features will be at your fingertips. If you would like to take an easier route, Wix gives you 500+ professionally crafted templates to work with. Either way, you can expect to achieve exceptional results.
Rather than attempting to achieve maximum results by tweaking image size, shapes, and positions, Wix offers several ways to make your portfolio site really come to life; namely, though animation and scrolling effects, and video backgrounds.
As far as "tweaking" is concerned, you can customize your portfolio to you hearts content with Wix's animated drag and drop builder.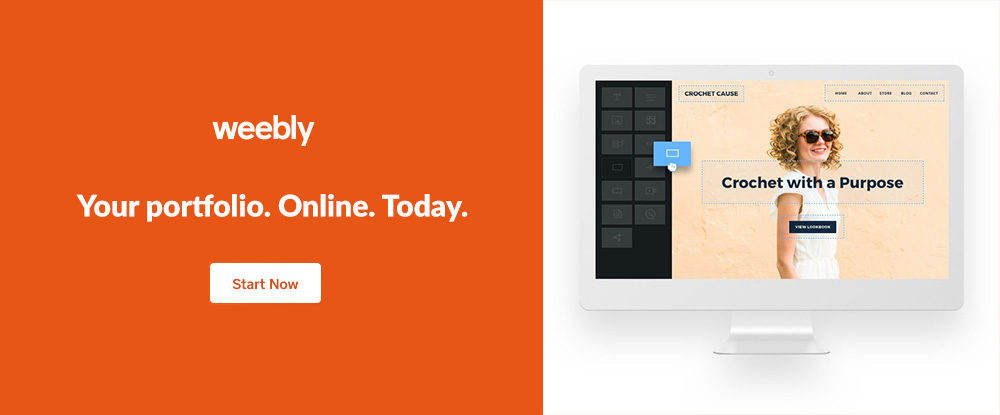 If you have a good idea as to what your online portfolio should look like, Weebly gives you everything needed to design and build a site that's limited only by your imagination. You don't need a ton of technical or coding expertise either. In fact, you don't need any of either.
Better yet, if you decide to get started on your portfolio site while enjoying your morning cup of coffee, don't be surprised if you have it up and running by the end of the day. Hosting is free as is the design/build tool itself. Weebly also offers a mobile app from which you can manage your site and track its performance.
You can purchase a domain name from Weebly if you need one or use one you already have. Weebly also offers a photo service if you need professional quality photos of your products.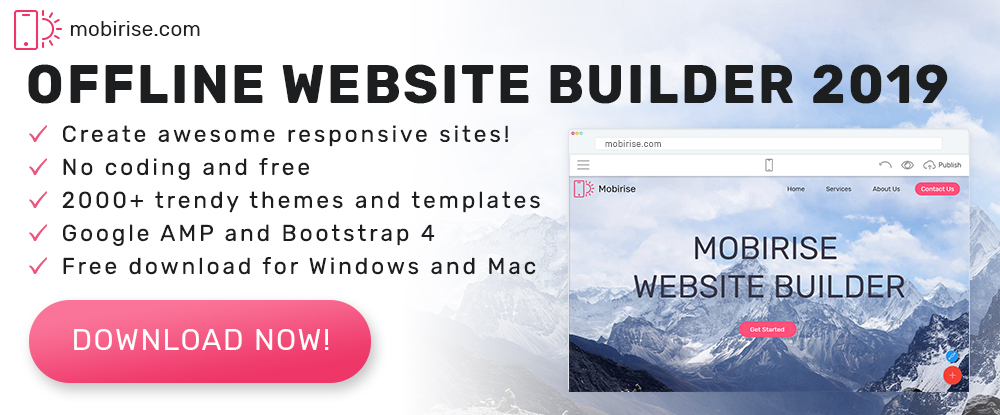 Mobirise features an easy-to-use drag and drop builder and a ton of trendy website templates and design blocks, icons, fonts, and free images. No coding is necessary, and your finished portfolio website will be 100% mobile friendly.
Best of all, this top online portfolio-building tool is free for both commercial and personal use.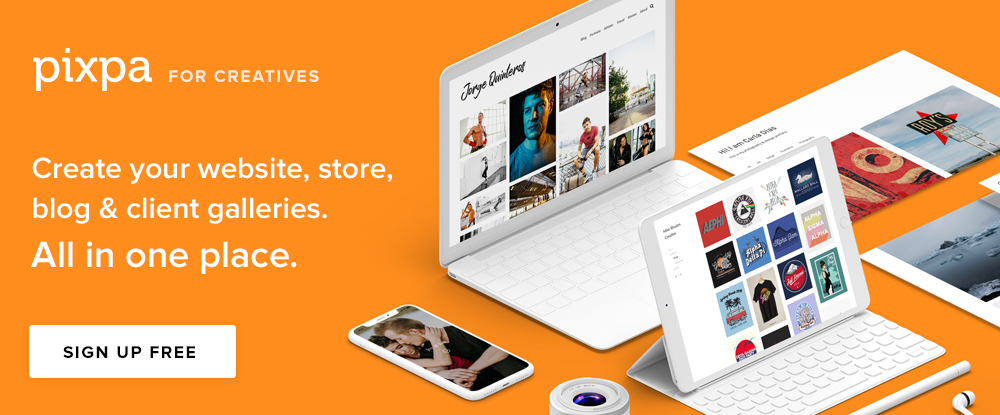 This website building tool for creatives gives you an all in one solution for showcasing and selling your products or creations and receiving payments for them online.
The necessary tools are at your fingertips to create a dazzling online portfolio or client gallery, together with a built-in full-featured eCommerce platform to make your sales and collect customer's payments via Stripe or PayPal.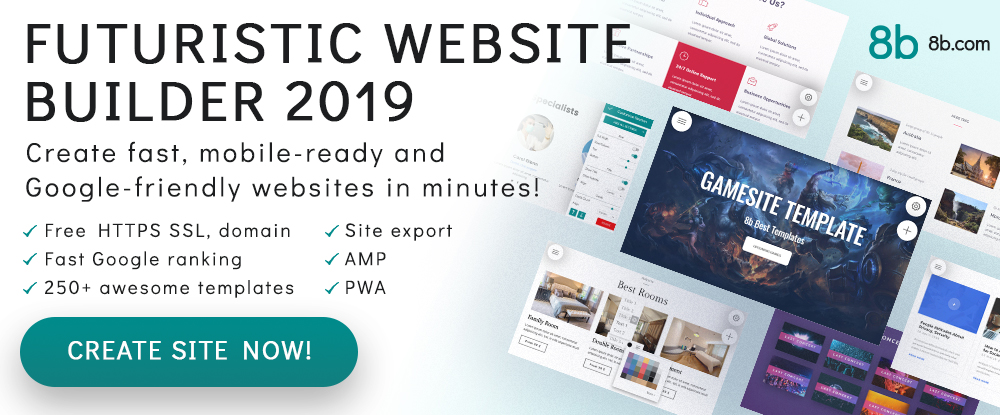 Super simple to use with a futuristic user interface and the ability to build an awesome portfolio website from your desktop or mobile device describes 8b in a nutshell. There's much more of course, including 250 cool website sections and 18 starter templates to help you design and build your portfolio, plus free HTML, SSL, and a free domain.
Since 8b doesn't yet have a pricing plan in place you can use it for free if you act now!
Tips for creating an awesome, attention-getting portfolio website
What are some of the advantages of having a portfolio website?
It provides a unique and exceptional way to showcase your creativity or products
You can also use an online portfolio website to effectively display your talents and show people what you're all about and capable of accomplishing.
You're searchable. Being easier to find is good for business.
As a minimum, your portfolio should include your logo, a tag line and your best work or most popular products. It won't hurt to include several case studies, testimonials, or blogs to give your portfolio more substance and even add a little spice.
Your portfolio is you online shop window. You want what it displays to entice people to come into your store and look around. You want to make your showcase informative, engaging, and even entertaining in a way that connects with potential customers or clients.
Choosing the right platform and the actual building of your portfolio doesn't need to be difficult if you remember these tips:
Make sure to highlight your best work
Make sure your portfolio website is easy to navigate
Don't forget to introduce yourself in addition to showing your work
Make sure to include any awards you've received
Include blogs to encourage word of mouth and repeat visits
Always do your best.
When you create something that puts your talents on display, it can't help but boost your self-confident. Plus, you're apt to learn some new things in the process.
Conclusion
When you're selling a line of products or your own creations, an online portfolio can become an indispensable part of your business. Naturally, you'll want to put a lot of thought into designing an effective portfolio. You don't, however, have to put a lot of effort into building it.
Let a portfolio website builder do the bulk of the work for you. A top-of-the-line website builder that's free, or free to use for a trial period, is something not to be passed up. After all, you've nothing to lose.
Full Disclosure: This article is sponsored by BAWMEDIA.