Full Disclosure: This article is sponsored by BAWMEDIA.
The holidays are fast approaching and before you know it, we'll all be in the middle of the Black Friday shopping spree. You don't necessarily have to wait until 29 November since there are already some good deals out there.
We've been covering Black Friday offers for more than a decade. There's always more than a few "you-don't want-to-miss" deals out there, and this year is no exception. You can rely on our expertise to tune you into some offers you might not want to let slip by.
What can we expect from 2019's version of Black Friday, and in some cases all the way up to and including Cyber Monday?
Let's find out.
LayerSlider powers more than 1.5 million active sites daily, some of which have been exclusively created with the LayerSlider plugin. This premium, multi-purpose animation platform can be used to create much more than stunning sliders.
LayerSlider can be used to create impressive image galleries, eye-popping slide shows, animated page blocks, and more. You can even build a complete website using nothing more than what LayerSlider brings to the table.
Your design will be device friendly, SEO friendly, retina ready, and developer friendly as well. There's a wide selection of professionally designed slider templates to get your project started. The package also includes a variety of versatile layout options, useful popup features, and a drag and drop visual editor that will spare you the inconvenience of having to worry about coding or special technical skills that could inhibit your workflow. There's even a built-in Photoshop-like image editor, a feature missing in most premium themes.
Black Friday Discount: Purchase your copy of LayerSlider from 25 November through 2 December to save 40%.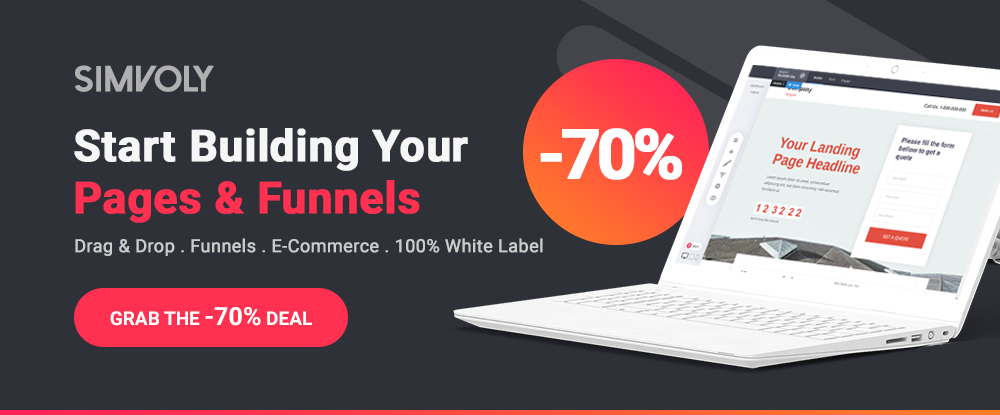 Simvoly can be a real blessing in that designing and building a complete sales and conversion funnel normally takes lots of time and effort. This core digital marketing concept is something you don't want to have lacking if you're serious about creating a mass marketing machine; and Simvoly makes it possible to create your own or a client's funnel overnight.
With Simvoly, you can in fact build a working lead generation, conversion, and sales funnel in a matter of minutes – whether it's for yourself or for a client. You're given a wealth of customizable templates to select from and you can A/B test any funnel you create. 18 videos come with the package to help you better understand the basics of website and funnel building, connecting domains, and more.
Simvoly's Black Friday deal is a 70% discount on all plans for the first 3 or 6 months. It is available until Tuesday, December 3rd.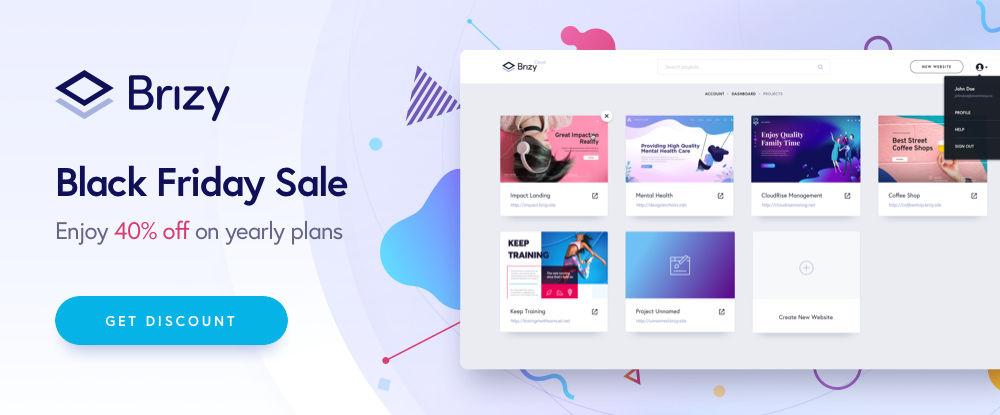 Between what you visualize and what the Brizy Cloud Website Builder is capable of, there's no limit as to what you can build. Design skills are nice to have of course, but you don't absolutely have to have a design background, and as far as coding is concerned you don't have to have any experience there either. It's all drag and drop, and you can easily create a website in mere minutes.
To top it off, Brizy is Free; but you'll want to open an account to be able to save what you build. There are two paid plans in addition to the free plan, which is of course where the Black Friday discount enters the picture. To take advantage of the 40% discount use code BF40OFF in the shopping cart page at the site. The discount is available from Black Friday through Cyber Monday.
Note: With your Brizy Cloud purchase, you get access to the Brizy PRO WordPress plugin.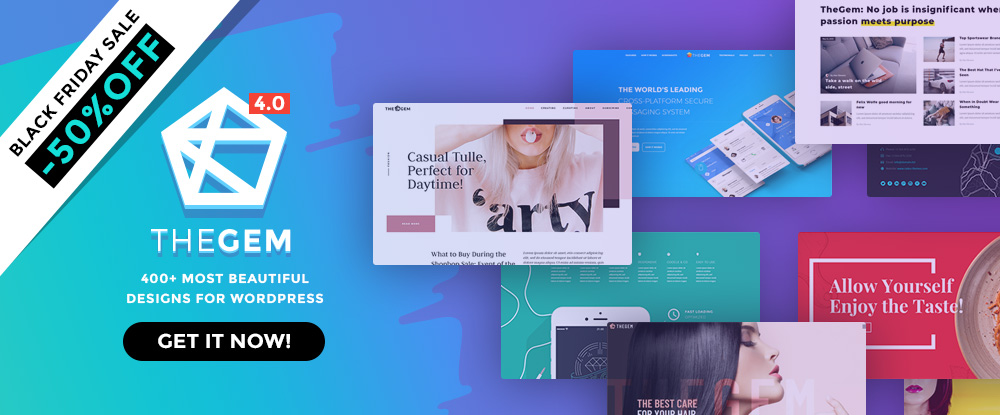 TheGem is a complete multipurpose web designer's toolbox in every sense of the word. Its more than 400 professionally designed trendy templates and 90+ pre-built websites, together with the popular WPBakery page builder gives users practically unlimited design flexibility and 5-star support is a given.
Order TheGem 4.0 package now and take advantage of their Black Friday 50% discount.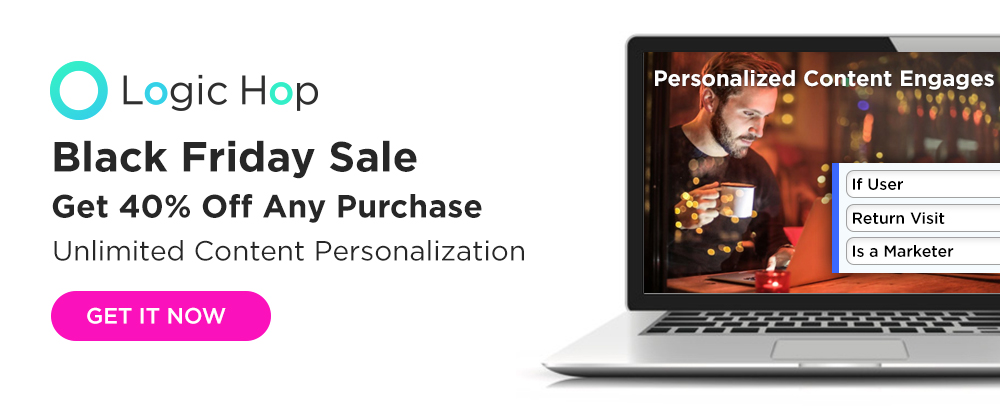 Think about how sales would improve if you were able to show the right content to the right audience at the right time. With Logic Hop it's not all that difficult to do. Getting your message to the right audience in a timely fashion can do wonders for your ROI.
Use coupon code CYBER2019 to save 40% on your copy of Logic Hop; a great Black Friday deal for an exciting product.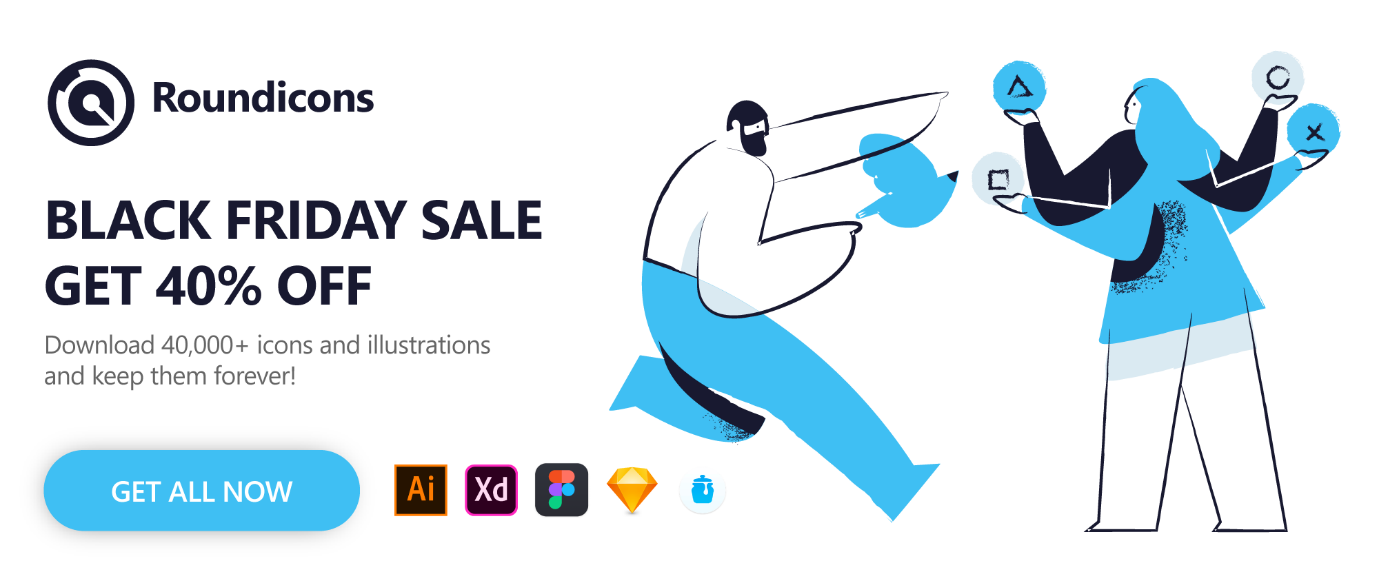 Here's your chance to download a bundle of 40,000 icons and illustrations, keep them for your personal use, and get all new icons scheduled for release over the next year. This Round Icons bundle sells for $99, and the price will increase in January.
To celebrate Black Friday, this wonderful collection of goodies can be yours for just $59; a 40% discount. This offer is valid from 24 November through 5 December.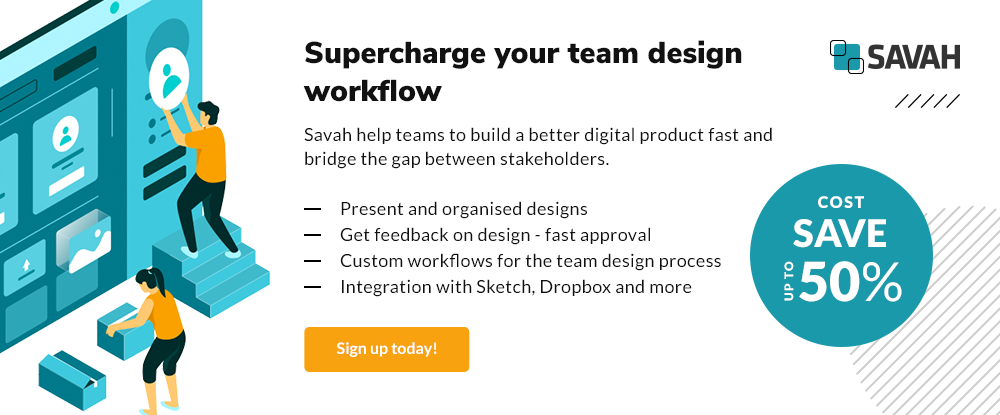 Savah was created to make your design team's and other team's working life easier. It gives you a quick way to get feedback on the status of your work from project stakeholders and team members alike. With Savah, you can streamline your workflows by customizing them to your team's design process and sync your work with Dropbox, Google Drive, and Box.
The annual plan for large teams can be purchased at a Black Friday 50% discount through 15 December.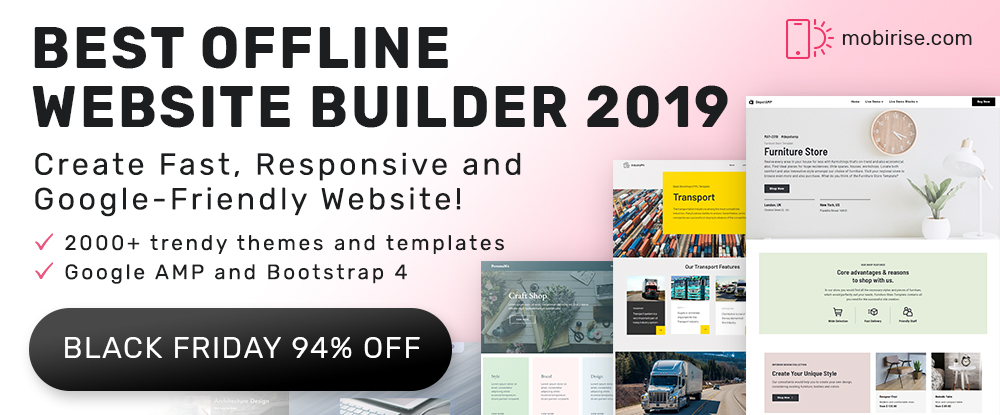 Mobirise gives you the benefits that only an offline builder can offer. You're not tied to a specific platform and you can host your site anywhere. In fact, you have complete control over the entire design process. Everything is drag and drop, so there's no need for coding and your final product is guaranteed to be 100% mobile-friendly and super-fast to boot.
Mobirise is free for commercial use. On Black Friday the Mobirise Website Builder Kit will be available at a 94% discount.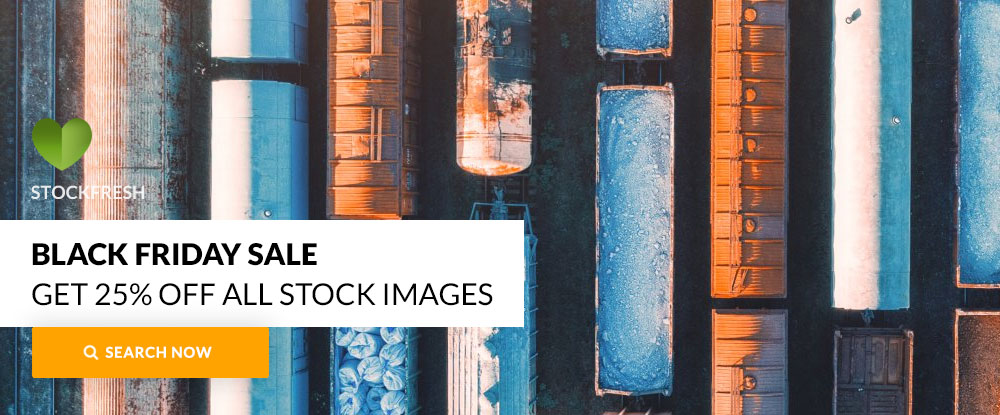 There's no need to search various sources for stock photos, vectors, and high-quality graphics when what you need most likely resides somewhere within Stockfresh's 1Million+ image inventory. The photos or images you want are easy to locate and affordably priced. Whether its images of animals, beauty, business, nature, or something else, Stockfresh can satisfy your needs.
Get a 25% discount on all stock image plans on Black Friday!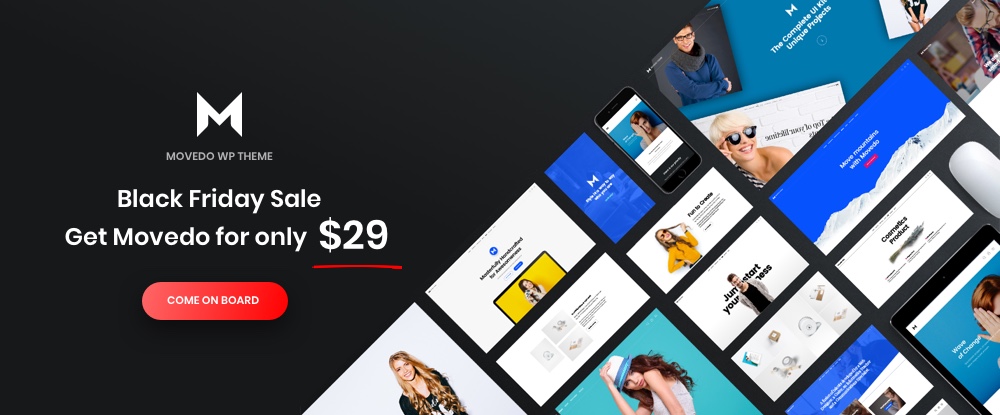 This top-rated author created premium theme's design can best be described as modern, clean, and extremely flexible. Movedo's unique and impressive design features guarantee that no matter how mind-bending you visualise your site will be, you can probably create it.
Movedo's premium theme can be yours this Black Friday for only $29; 50% off the usual price.
Conclusion
You've been waiting for Black Friday, and now it will be here and gone before you know it. It's typically be the biggest online shopping weekend of the year, and because of a shorter 2019 holiday season, many retailers are advertising and launching their Black Friday deals early.
Black Friday provides you with many excellent deals to buy quality products at significant savings. It also allows you to get at least some of your shopping done before that hectic last-minute rush.
Full Disclosure: This article is sponsored by BAWMEDIA.